Navigating the Workplace
Clearly communicate new occupancy limits, traffic flows, elevator policies and more to help employees reenter the office safely.

Staying Safe & Healthy
Make health and safety information vibrant and visible, and ease reservations by giving employees clear policies and guides on keeping safe.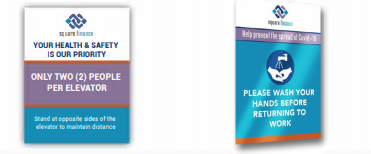 Minimizing Contact
Use signage to remind people to keep their distance; labels on drawers to minimize surface touches; and window graphics on front doors to give instructions for deliveries.